Title : Dual Battery Schematic
Author : Unknown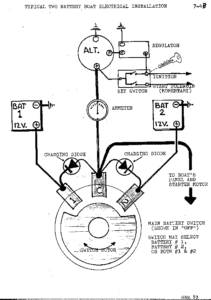 Title : How to aim headlamps
Author : Unknown
The word document contains basic details about aligning headlamps by yourself on a flat surface in front of a wall.
Title : How to Upgrade your Headlamp Circuit
Author : Daniel Stern and Steve Lacker
Details about upgrading your wiring to use relays.
upgrade your head lamp circuit
Title : Lucas Alternators
Author : Lucas Co
Title : Relay Types
Author : Unknown
Open up the word doc to see diagrams and details about the different types of relays available.